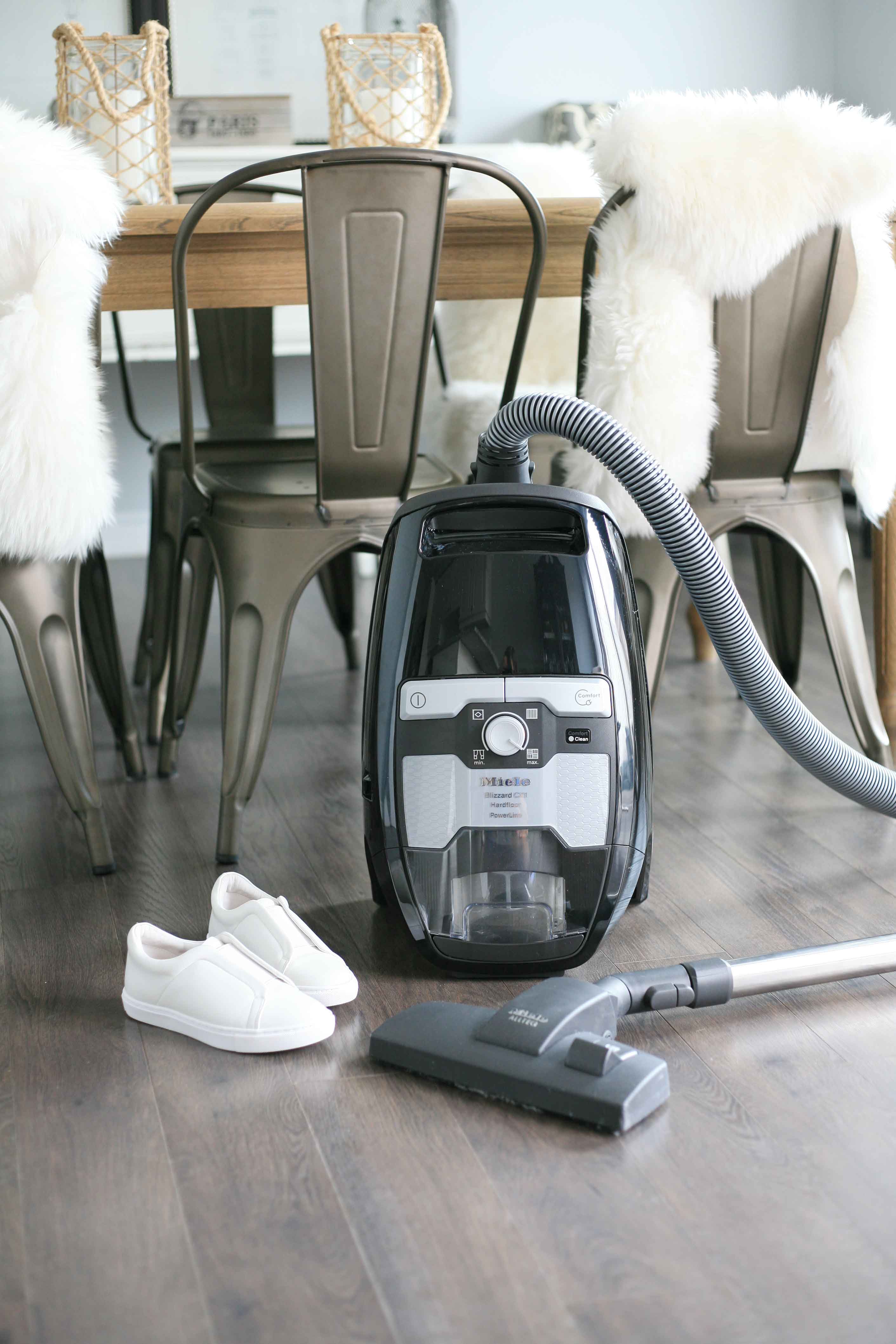 While many people clean their homes once a week, anyone with kids will agree that your floors are the one thing that can't wait until next week. There is always one mess, spill, or disaster after another that requires immediate attention, and daily maintenance is mandatory.
For years, we've been used to having central vac in our homes which has definitely been easy and convenient. However, since we recently moved into a townhouse that doesn't have this system setup, it's the one thing that I seriously miss. A traditional broom and dustpan along with an old vacuum that we've had for nearly 13 years have been on daily rotation, and everytime I pull them out I'm reminded how much I hate them – there has to be a better way!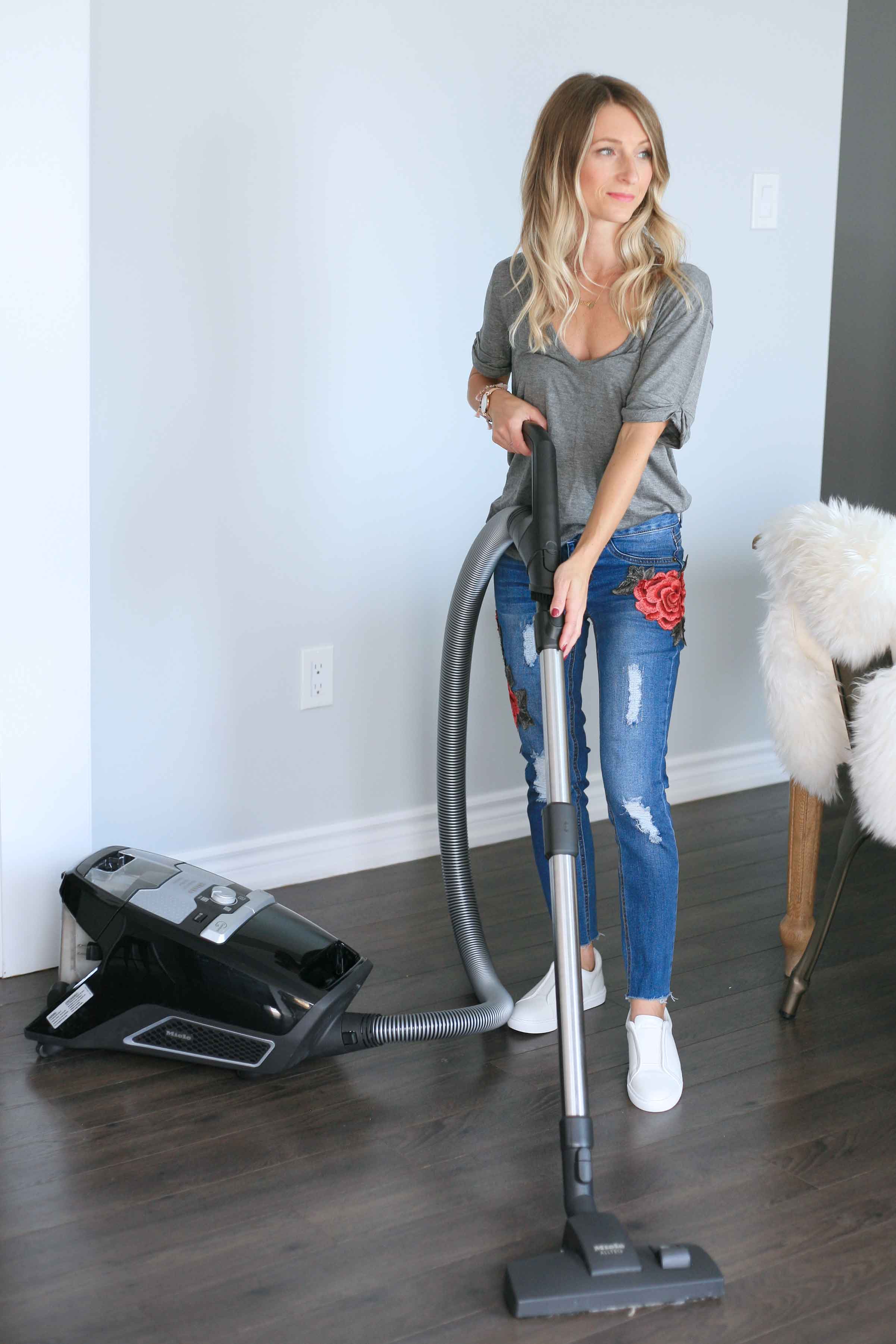 (T-Shirt: c/o Shein l Jeans: Suzy Shier (similar) l Sneakers: Nordstrom)
So when Miele Canada reached out to see if we wanted to test-drive the new Miele Blizzard CX1 Hardfloor Vacuum, you can imagine my level of excitement – I think I literally jumped for joy!
Whenever we get new appliances or devices in the home, I usually wait for my husband to assemble and read the usage instructions. However, when the Blizzard CX1 arrived, it was so simple to assemble that I actually did it all by myself WOO HOO! With a just a few clicks the machine was setup and ready to use. This is a selling feature all on its own!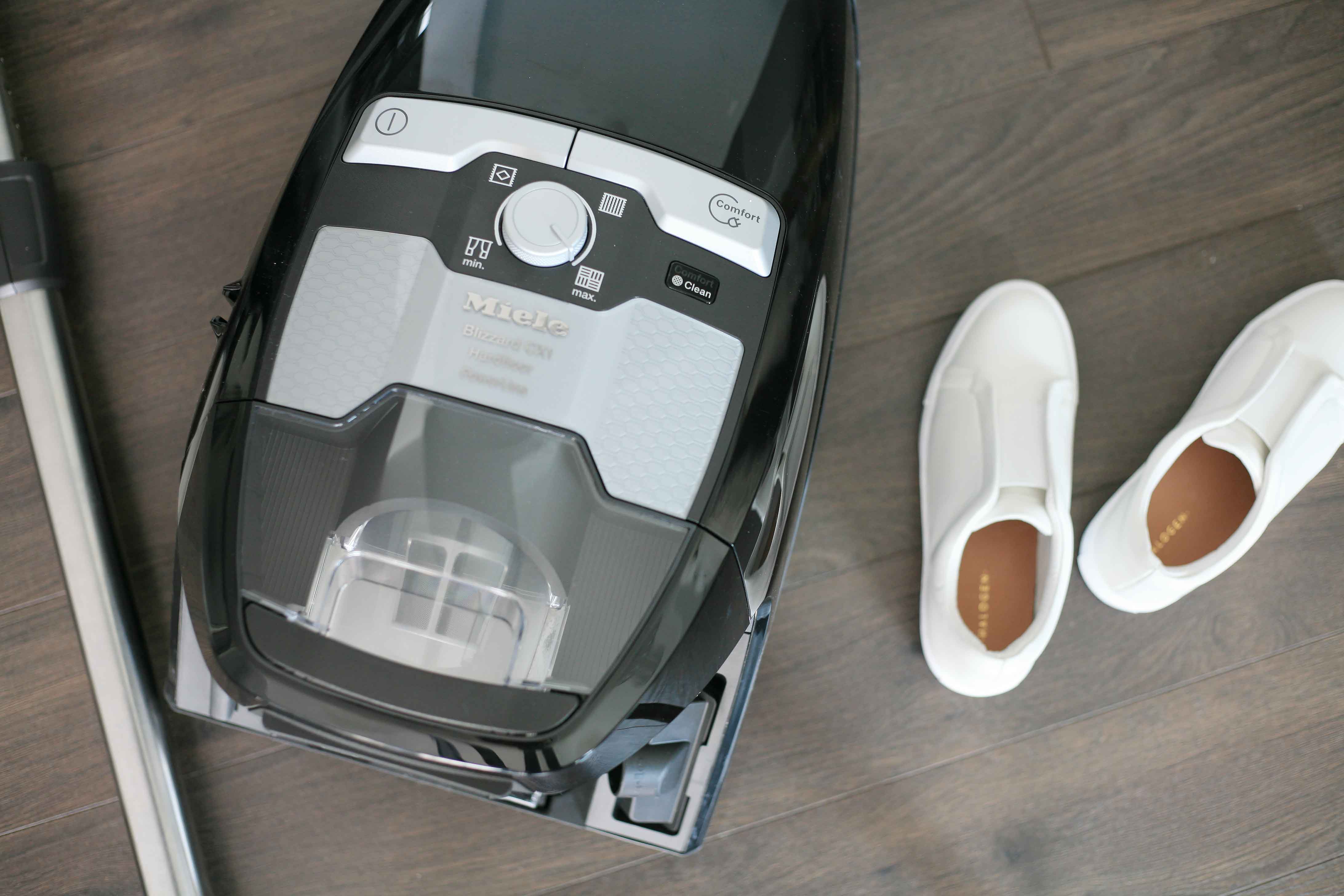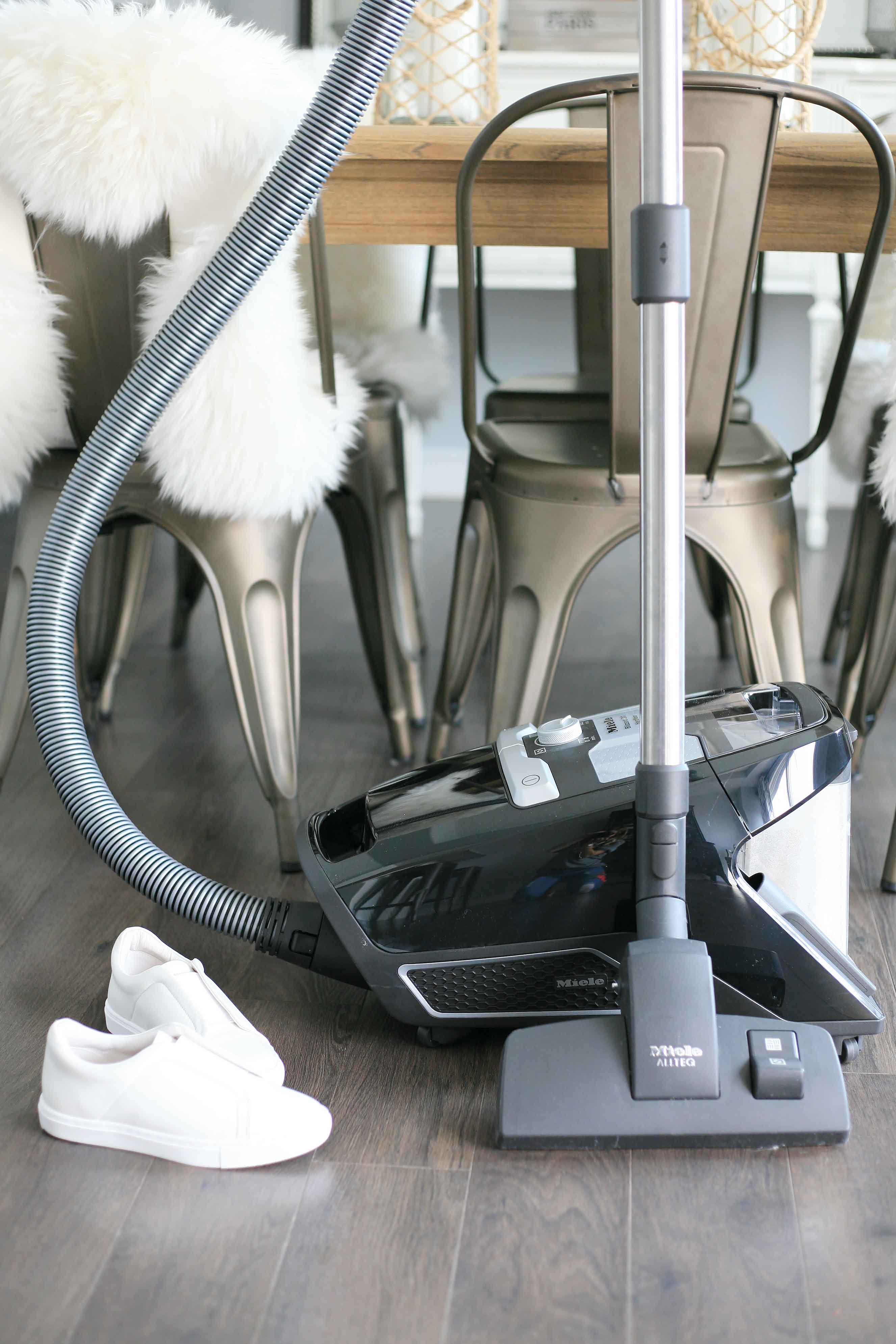 The main feature of this Miele vacuum is that it's bagless, meaning less mess and easy maintenance – this is very important for us, especially living in a small space. The hygenic disposal system for the dirt and dust collected in the machine is really unique, and you only have to clean the fine dust filter once or twice a year – how amazing is that! The main dust container can be removed with a simple click of a button and you virtually don't have to touch any dirt at all! What happens is that when the vacuum sucks up dirt and dust together, it actually then separates the two and the fine dust goes straight into the fine dust filter for self-cleaning. Yes, you heard that right! It also has a HEPA filter to catch the smallest particles and allergens so that it cleans the air in the room as you use it.
I've been testing out the new Blizzard CX1 for a couple weeks now and am very impressed with the quality of performance. It's actually stayed out on the floor so I can use it at any given moment, and has come to many a messy rescues so far. When set to the hard-floor setting it picks up all the dirt, crumbs, and everything in-between that the kids manage to get all over the floor. A few times I've had to lift the hose to really grab larger pieces of debris, but in general it picks up even the tiniest of crumbs. It can also be set to a carpet setting which is great for our area rugs and carpeted bedrooms on the second floor.
For such a powerful machine, it's also very quiet. This is something I also truly detested with my old vacuum. Even the kids were scared of the old one and would hide when it turned on because it was just so noisy. But the Blizzard CX1 is different and uses Vortex Technology where air passes through one single, large cyclone. This results in a powerful yet quiet performance. It also has 4 settings (to switch from hard to soft surfaces) where the power intensity can be controlled. This comes in very handy since we do have some areas of carpet in our mostly hard-surfaced home.
The only con I would have to say is that the vacuum does still have a cord which I could have done without (since it makes it somewhat cumbersome to use on stairs). But since it easily retracts with the push of a button, and the body of the machine glides seamlessly along flat floor surfaces when the cord is fully extended, I really don't mind so much.
Overall, we are loving our new Miele Blizzard CX1 (retails starting at $699 CAD) and life at our house has just gotten a little bit easier. And now that the kids aren't scared of the vacuum anymore, they've actually taken to picking up the hose and starting to clean. Now THIS is something I could get used to :)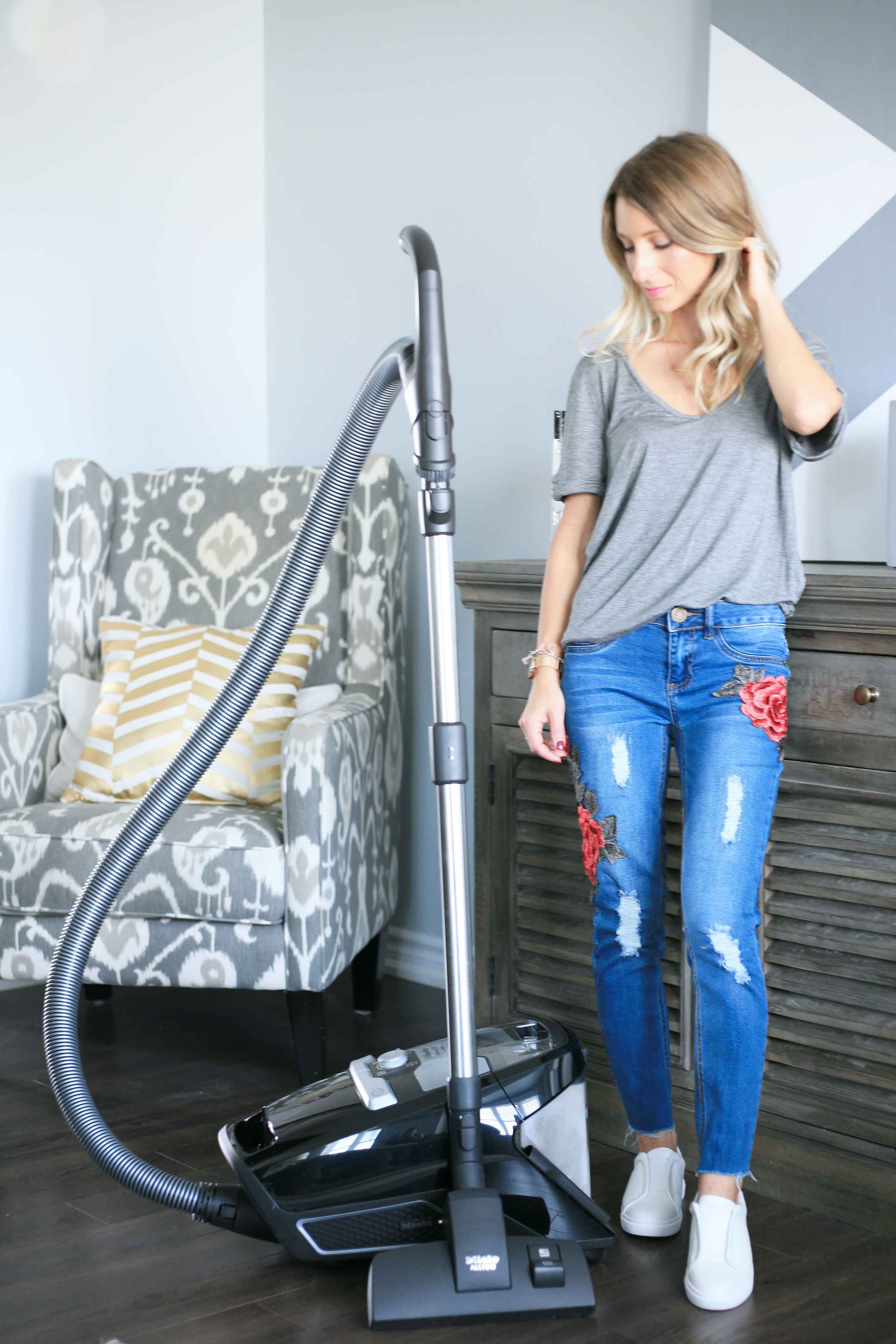 *This post was written in collaboration with Miele Canada. In exchange for this post I have received perks in the form of products and/or compensation. All opinions on this blog are always my own.