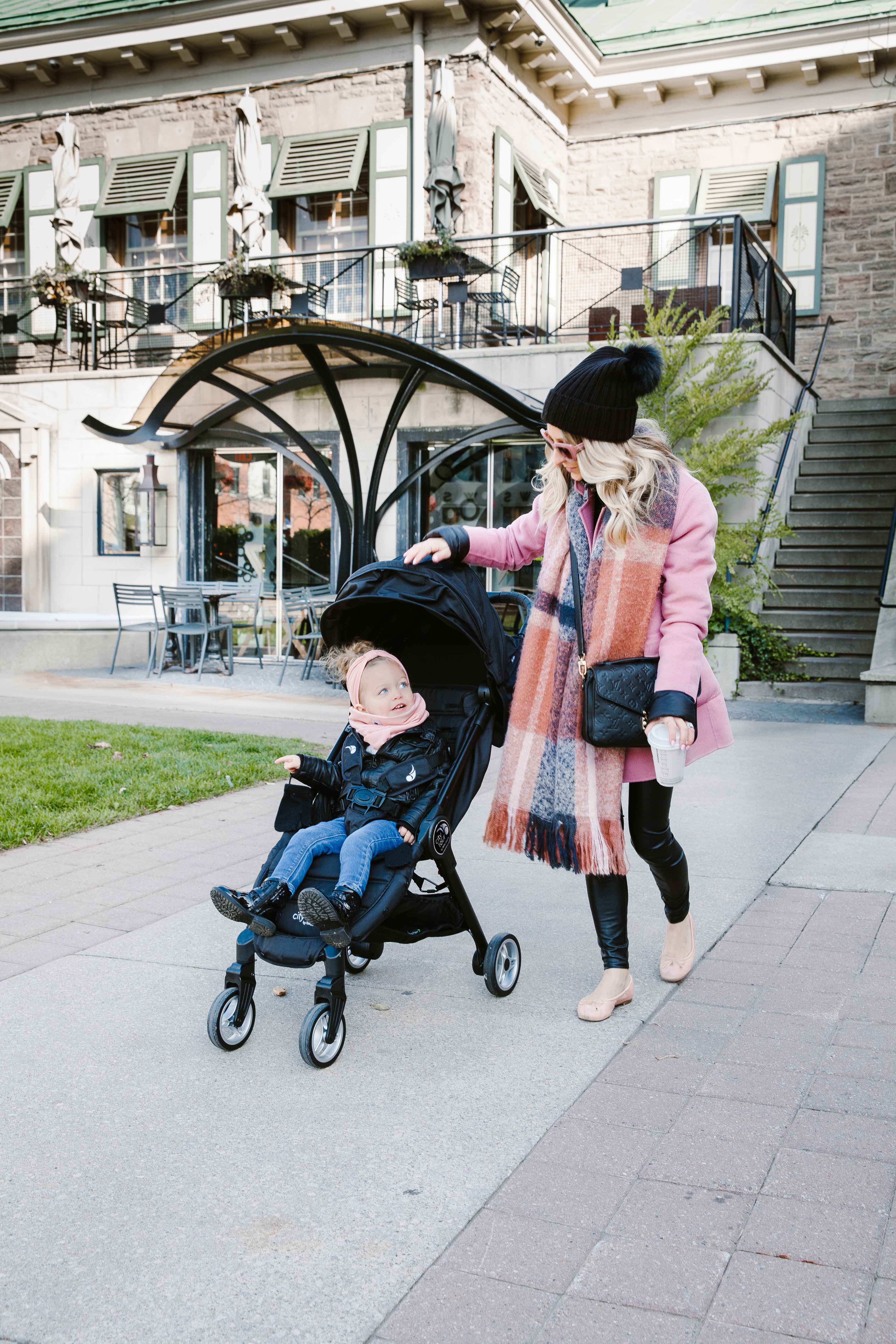 We've been through our fair share of strollers – four to be exact. Over the past four and a half years, we've used and abused a single two-piece stroller, a heavy-duty double, a folding one-piece, and a flimsy umbrella version that we later ditched while on vacation. As our family has evolved, so have our needs when it comes to a stroller, and having gone through pretty much every model out there, we think we know a thing or two about what's right for our family's mobility needs.
Recently, we found ourselves at a point where the double just wasn't getting used anymore and its two-piece system was too cumbersome for our everyday needs. This forced us to resort back to our folding one-piece which had definitely seen it's day and that my toddler had really had enough with. So I was very excited when Baby Jogger approached me to be a Squad Ambassador and to review the City Tour model – the newest addition to their fleet – and may I add, the most stylish :)
We live in beautiful Oakville (just outside of Toronto), and there are so many perfect spots for scenic views and community vibes. I'm so happy to be able to share "how we stroll" at three of my favourite spots that are definite must-sees the next time you're in our quaint little town.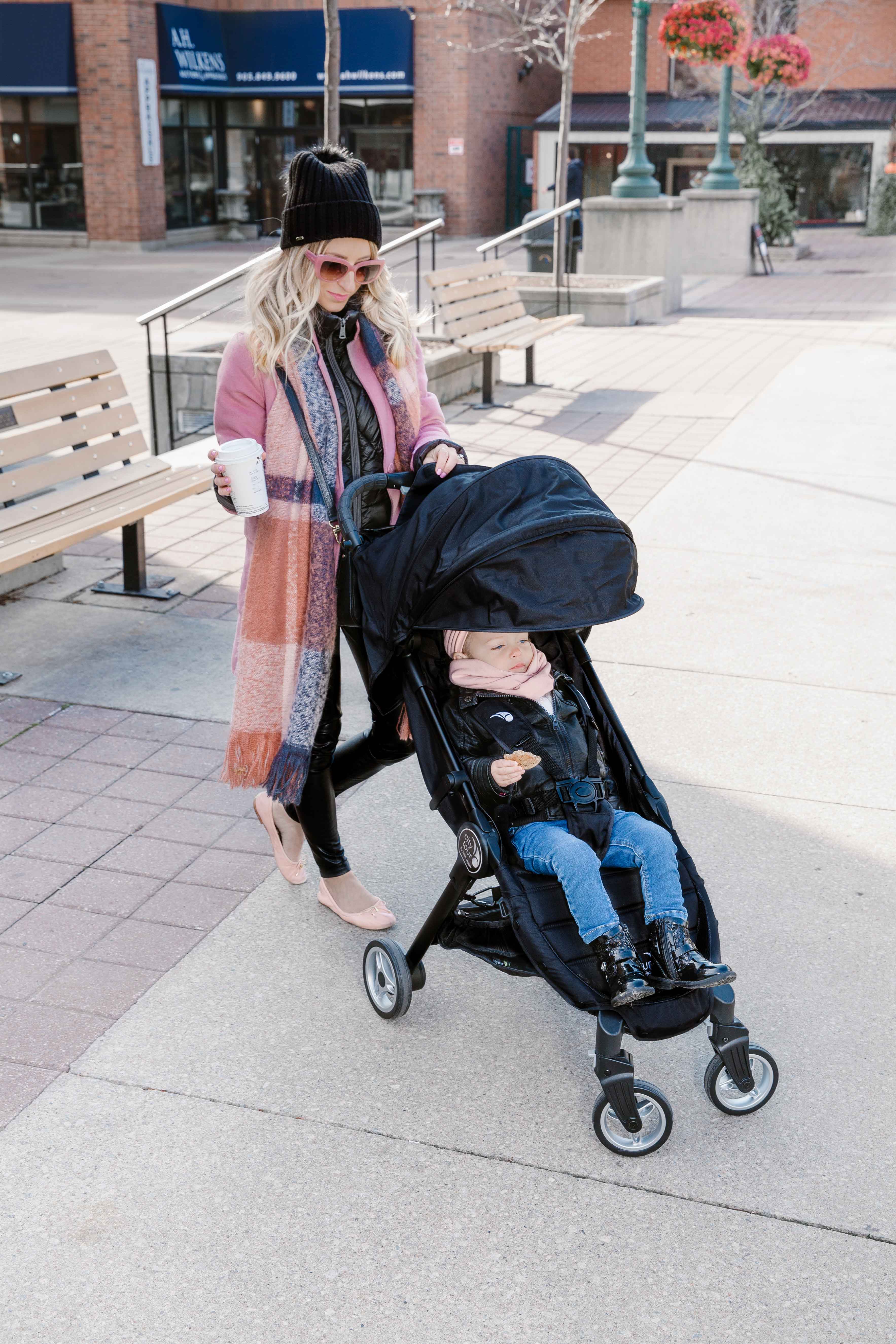 Towne Square
I'm a city-girl at heart, so having a great downtown is a must-have for those city-in-the-suburbs kinda feels. Towne Square is the core of the Oakville business area, and it's filled with the cutest boutiques, amazing cafes, and top-rated restaurants. We love coming here for an afternoon stroll to check out the shops and grab a coffee, or dine at some of our favourite foodie spots on the weekends.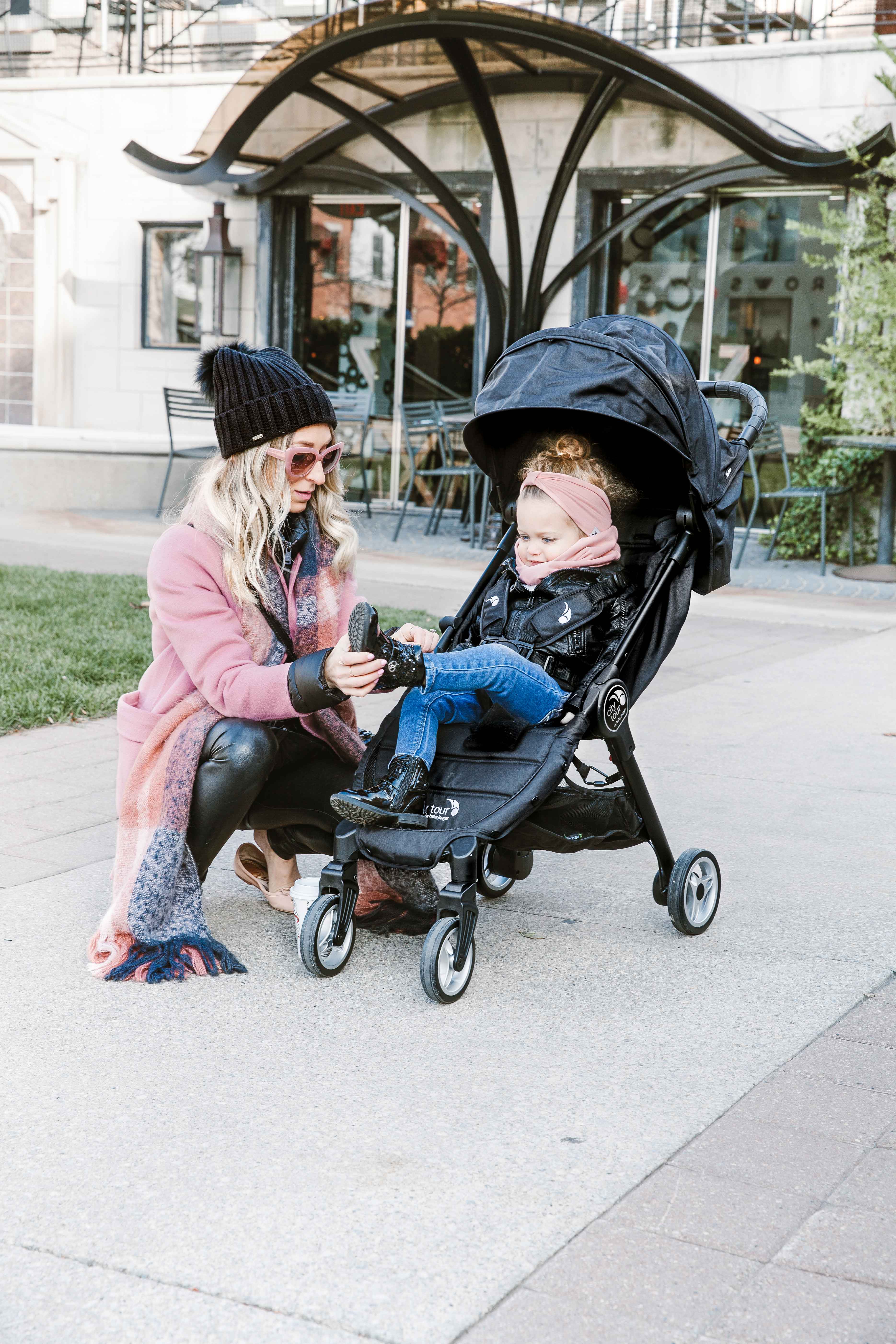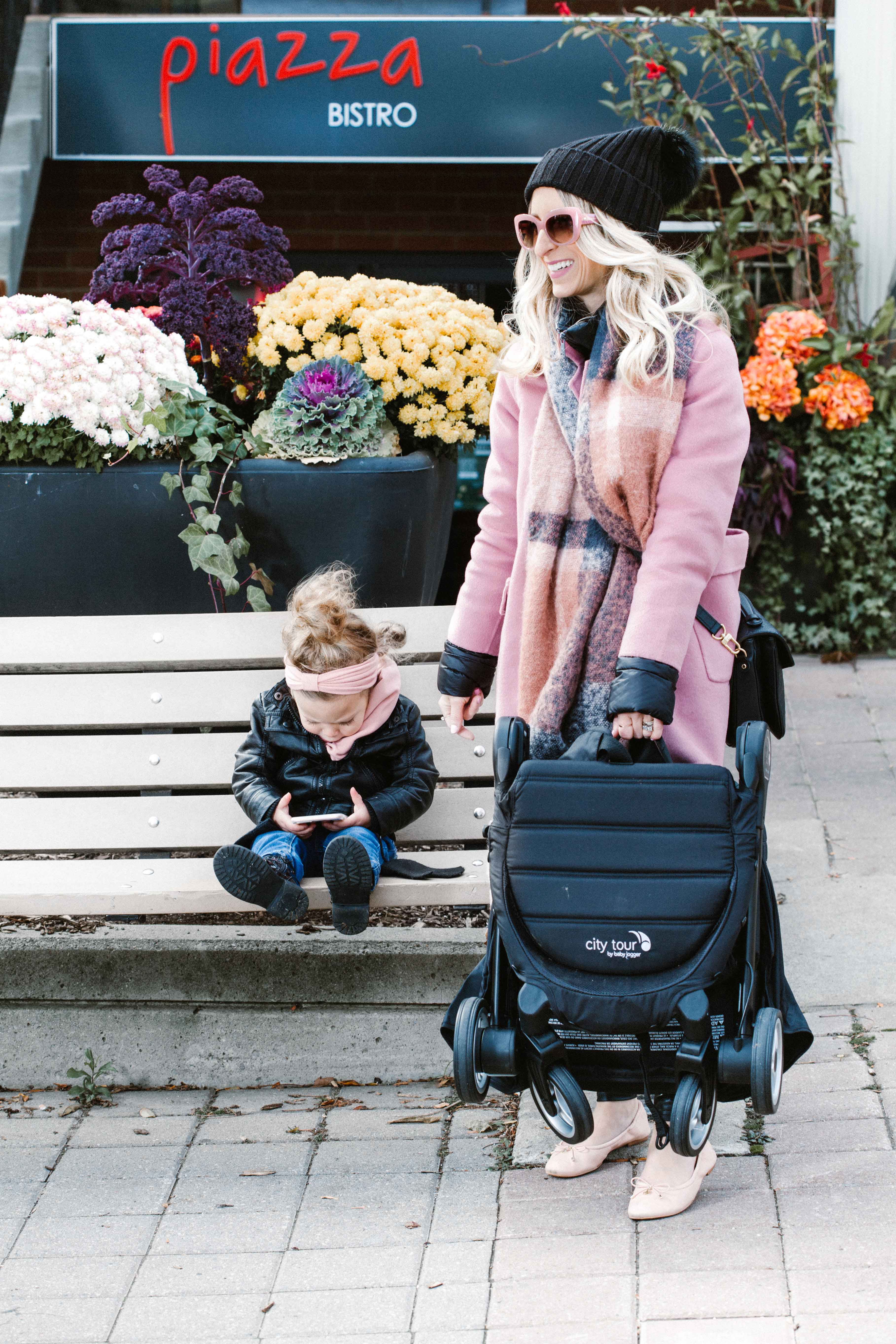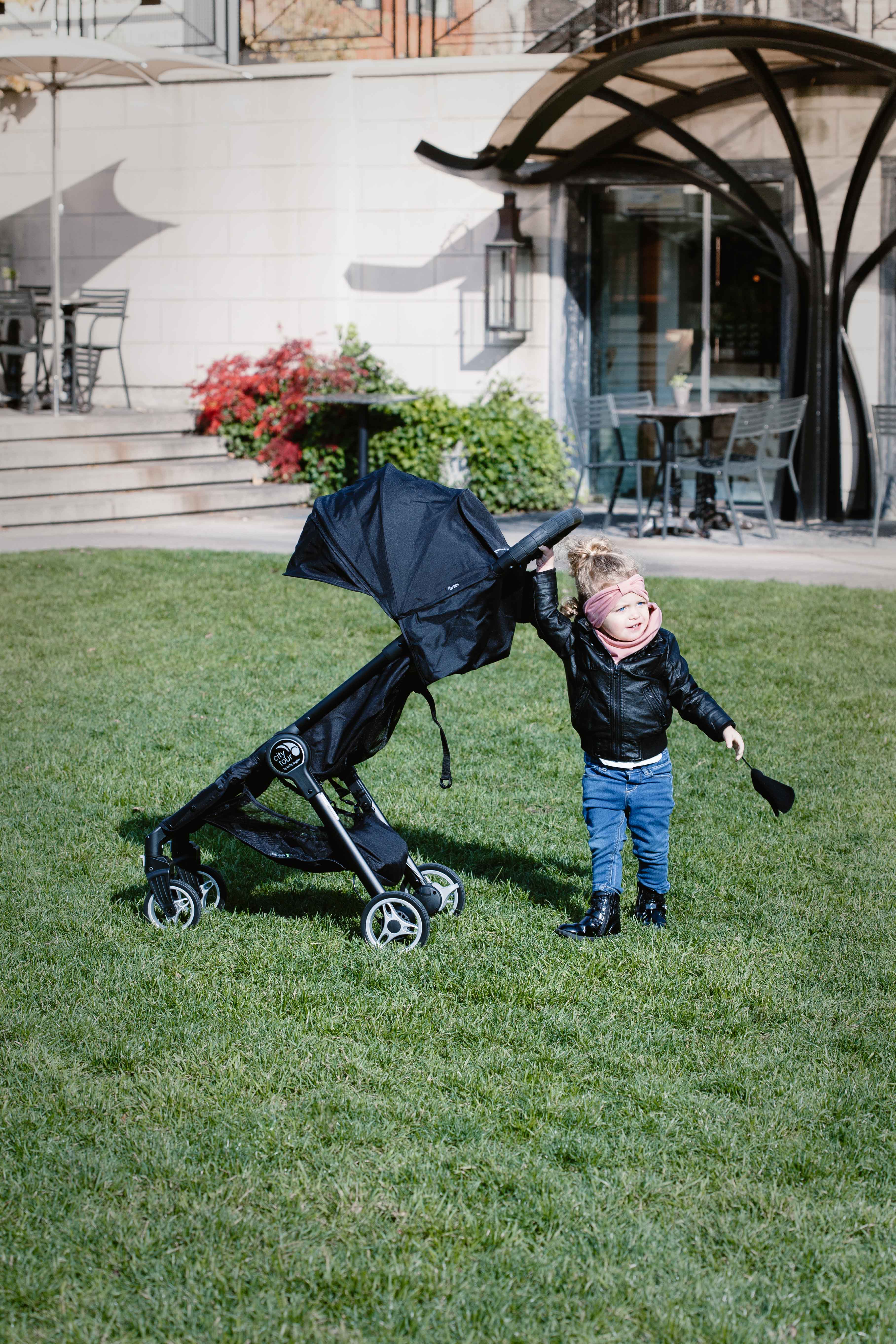 What immediately caught my attention about the City Tour stroller is how lightweight and compact it is. Weighing in at only 14 lb and meeting carry-on size guidelines when folded, this is one very portable buggy. Due to it's compact and square shape, I can even fold and tote it around all with just one hand. One bonus feature is that it comes with a handy, back-pack style carrying bag which the folded stroller fits right into – perfect for keeping all the pieces together, and especially convenient for travel.
Another important factor for easy and effective travel is having a good set of wheels. I've used strollers whose wheels have a mind of their own, and it's nothing but pure frustration. However, the wheels on the City Tour can be set to swivel through any obstacle course, or stay locked in place for a straight, long-distance path – and the resulting ride is so, so smooth! We like to keep it on the swivel mode so it can easily handle all the neighbourhood corners as we walk to pick up big-brother from school each day.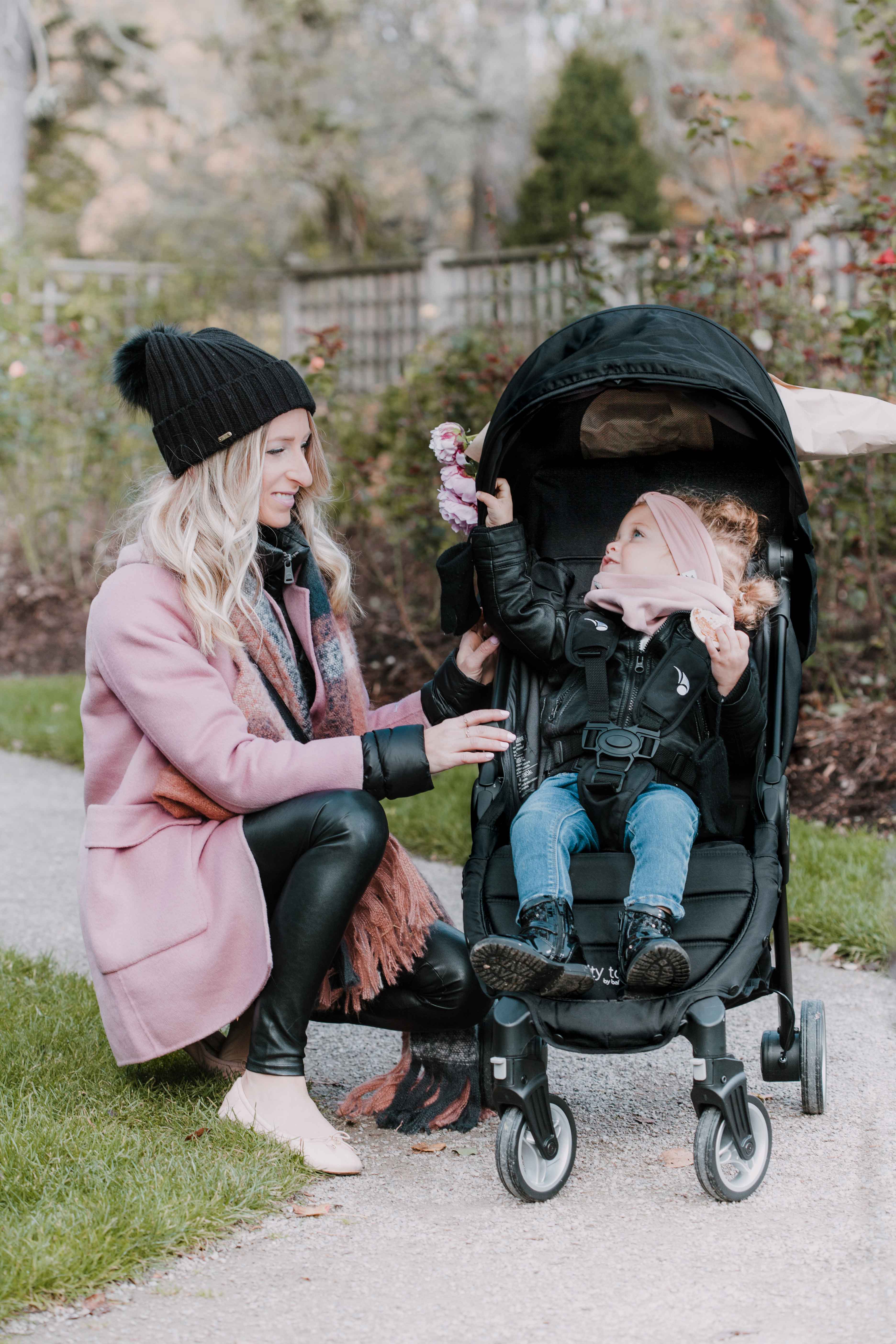 Gairloch Gardens
In 1971, this once privately owned estate was bequeathed to the Town of Oakville for residents to enjoy the beautiful public gardens and adjoining art gallery. Located right on the water, this is an ideal spot for quiet strolls to take in all the beauty of nature. We especially love to come here in the summer when the rose-garden is in full bloom and we can enjoy all the vibrant colours and luscious aromas.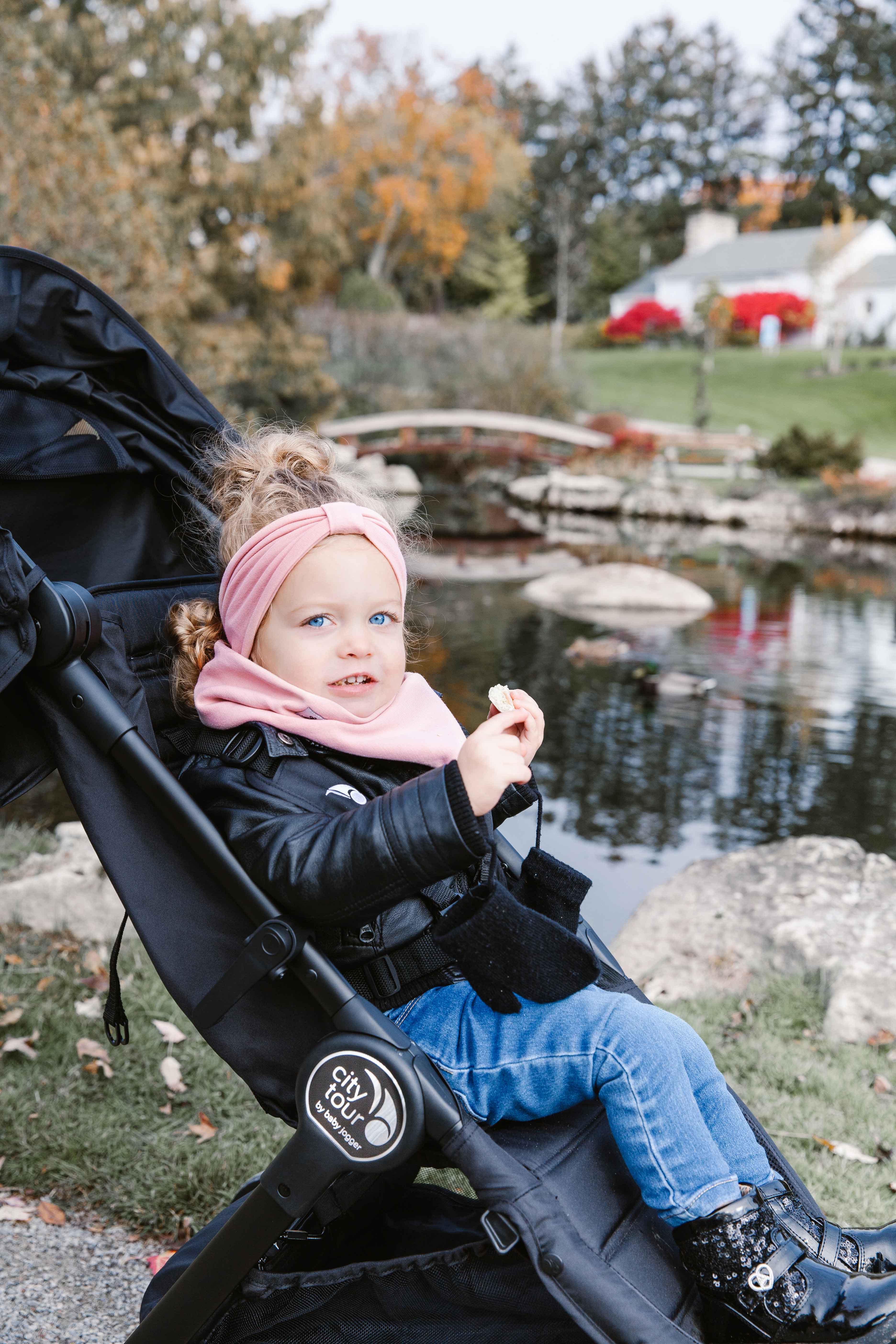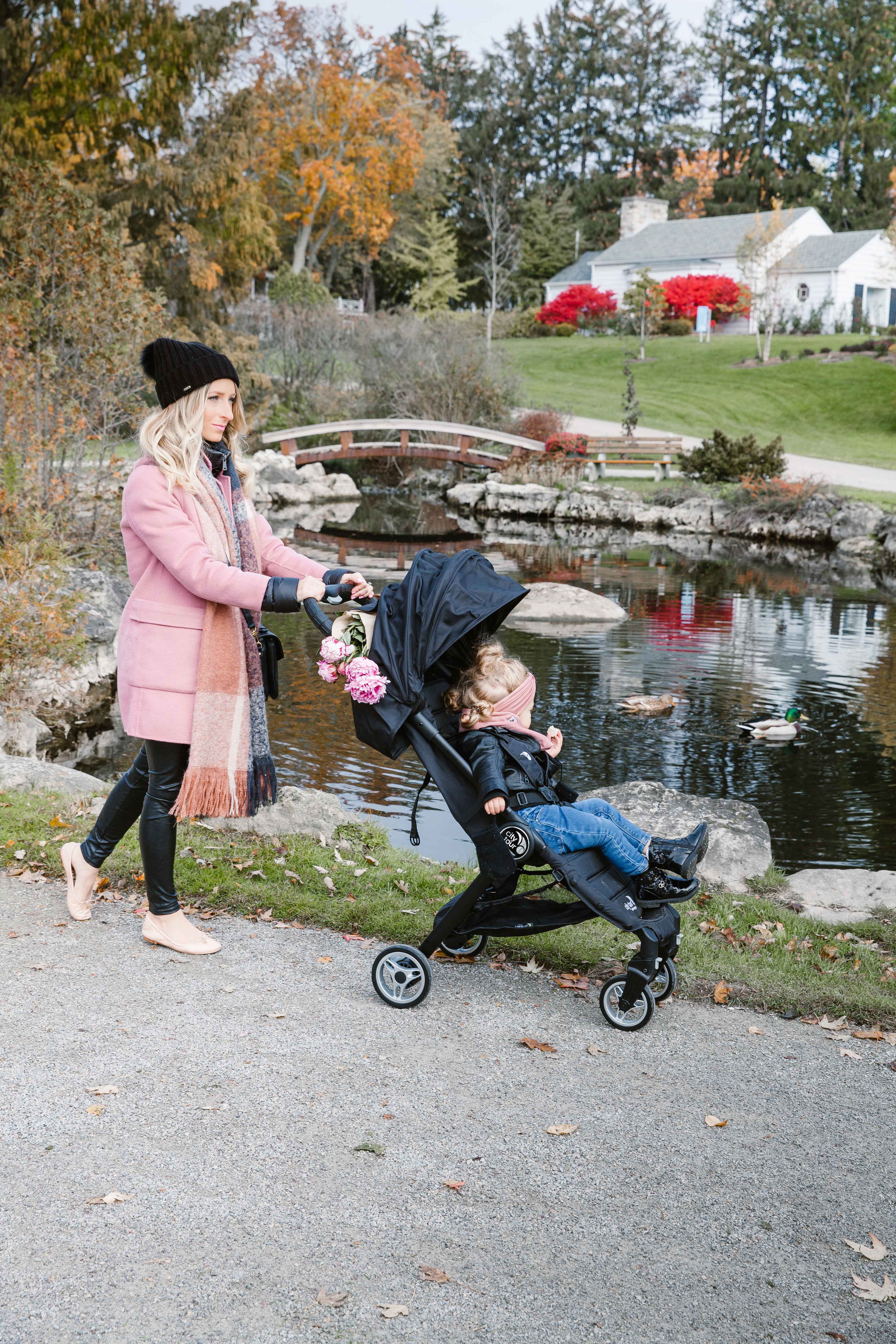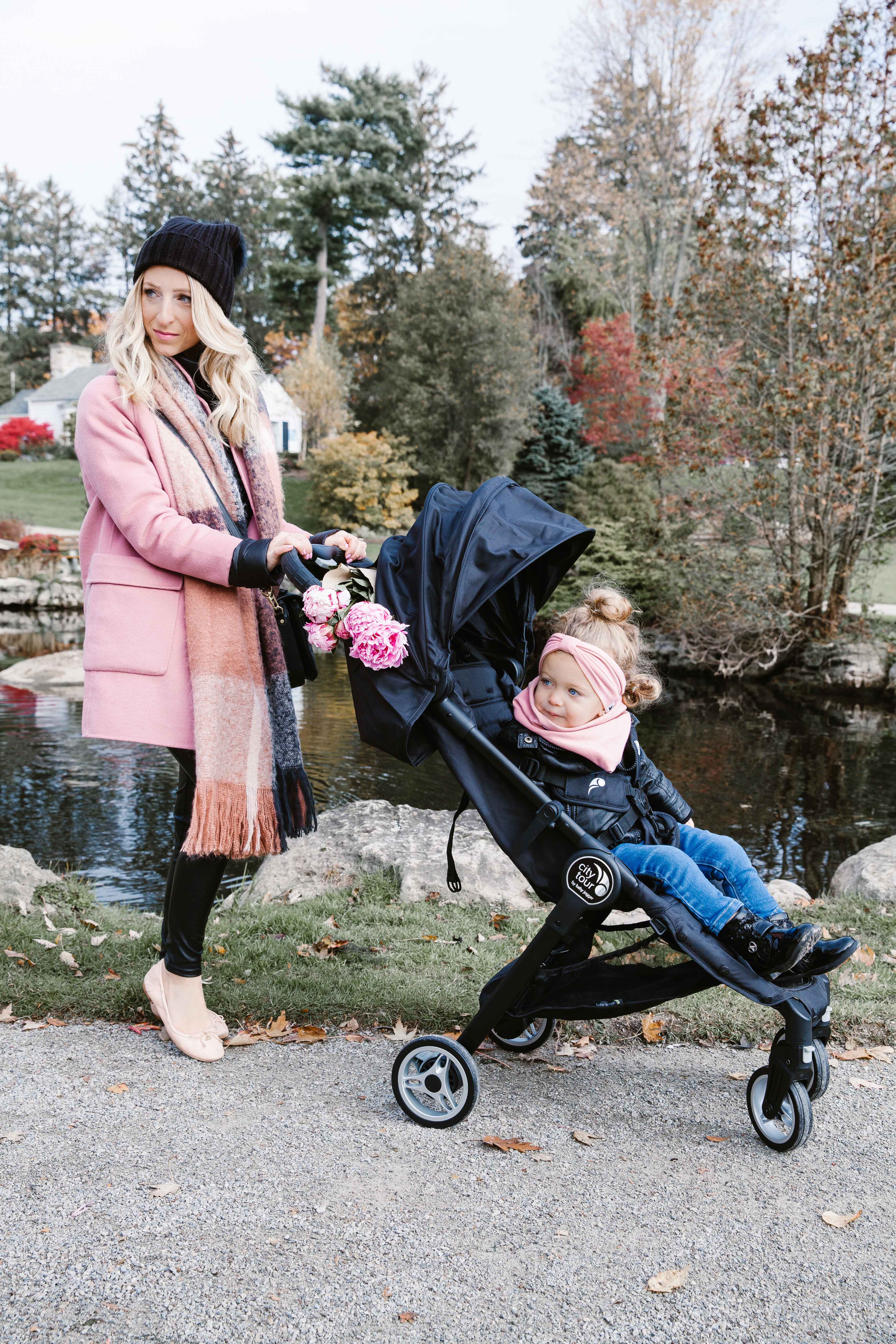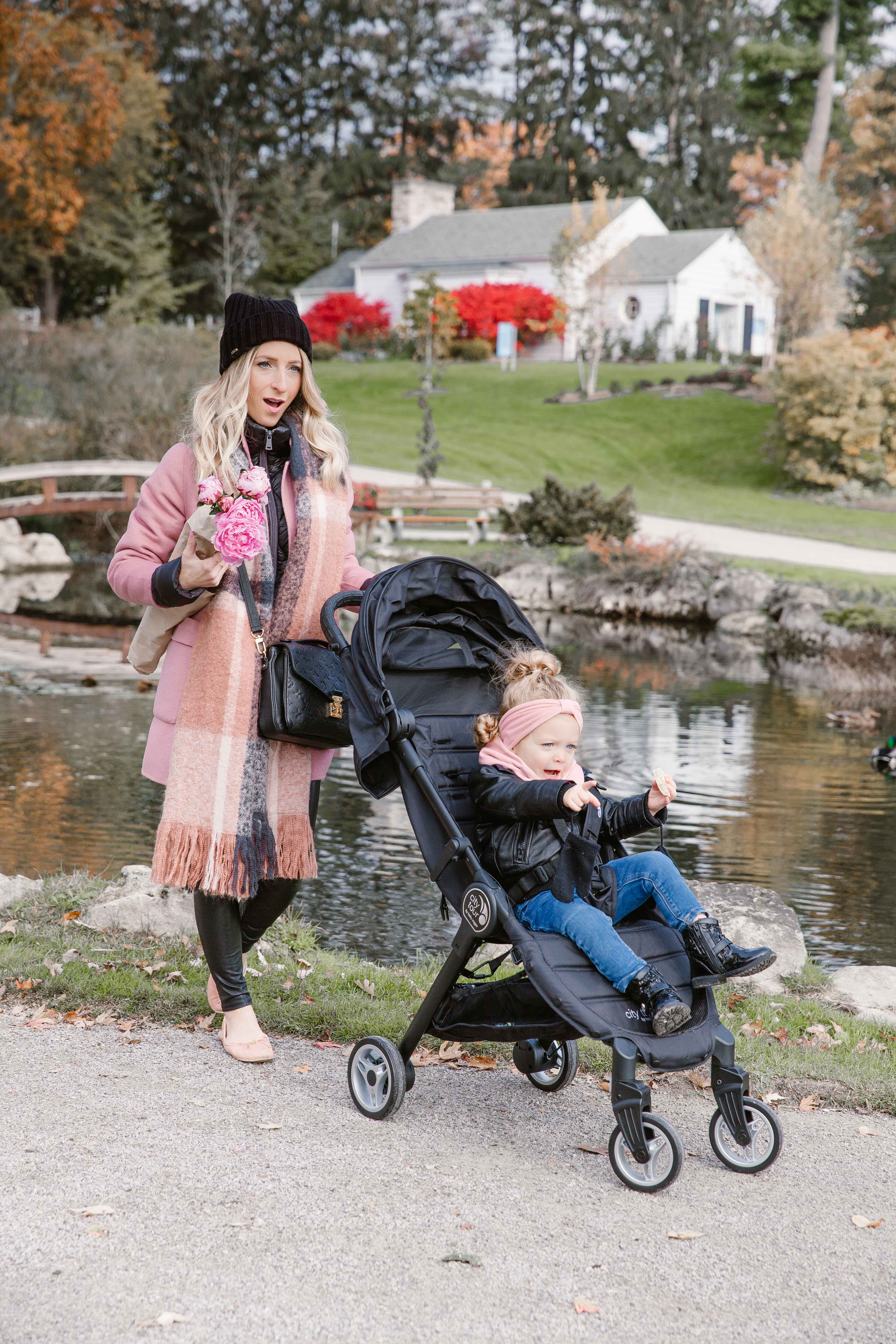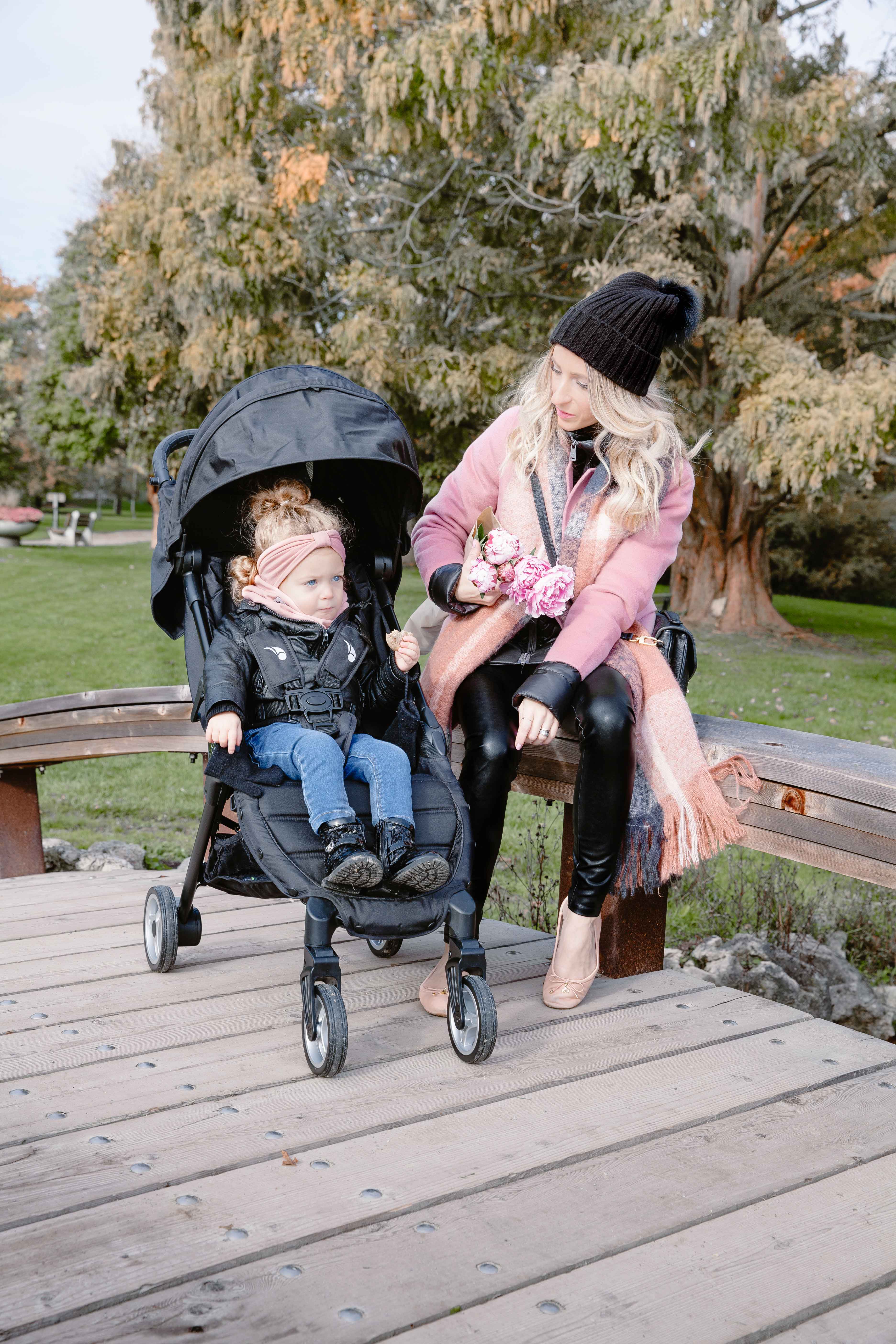 We usually keep our stroller in the back of our vehicle so it's accessible when needed, and this model is so easy to take in and out that I barely feel it at all when lifting. As a very petite mama, this is EXTREMELY important to me as the last thing I want to do is put my back out each and every time I need to access the stroller. And I don't know about you, but when we were using a heavy, multi-piece model, I would always try my best to AVOID situations where I would actually need to take the stroller out of the truck – just to avoid the hassle.
I also love how easy it is to adjust the seat from an upright position to a nearly-flat horizontal position. The one-hand adjuster can be pulled ever-so-slightly to avoid waking up your child – a must for those times when you NEED baby to stay asleep.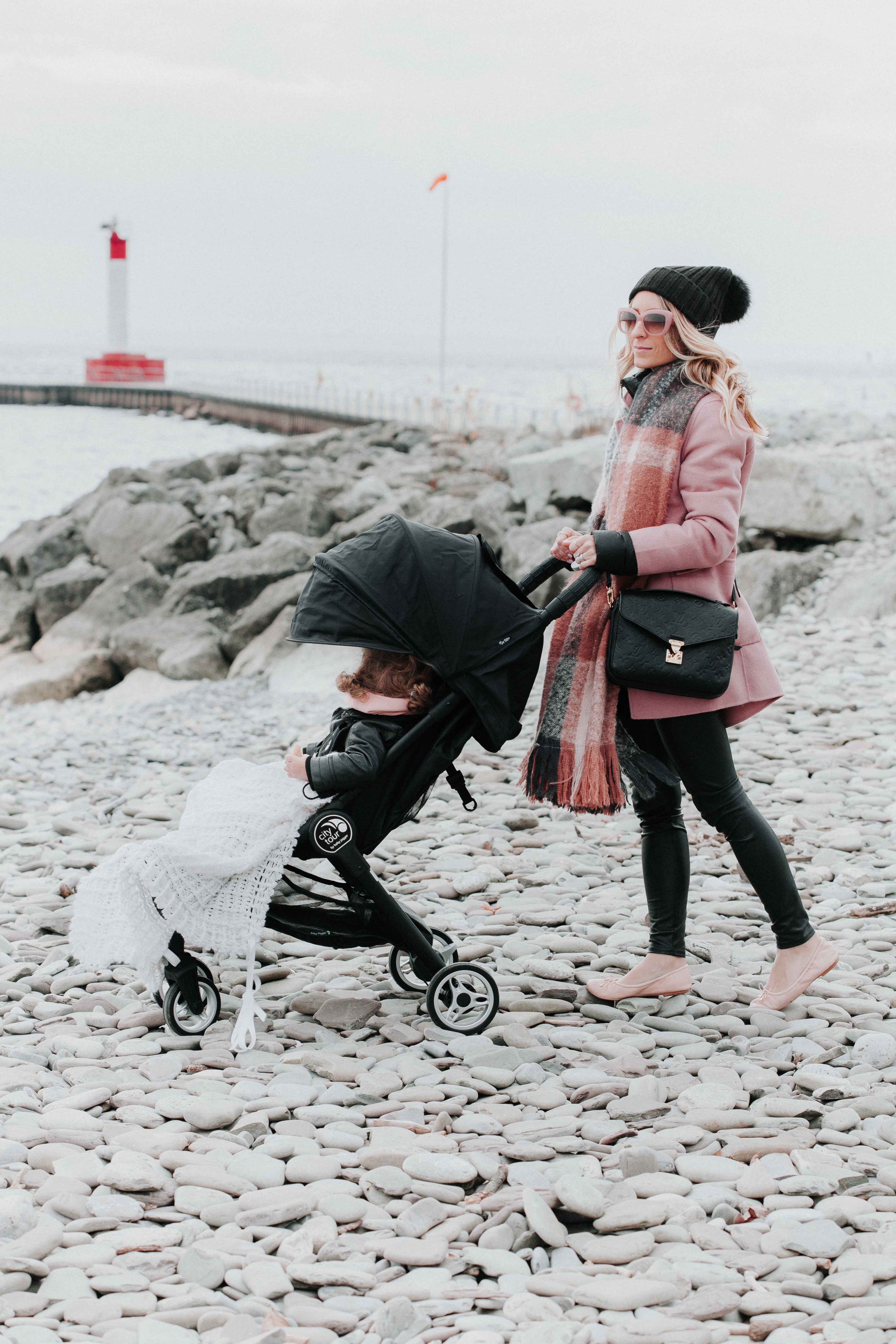 Lake Ontario
Oakville is located right on Lake Ontario, and although many other towns are as well, we have some beautiful locations where taking a stroll allows you to be right on the water and get those perfect views of the big city. I personally love this location which is off of Lakeshore Road and right beside the marina. In the summertime, the plethora of boats are such a welcome sight and we enjoy sitting on the rocks taking in the view.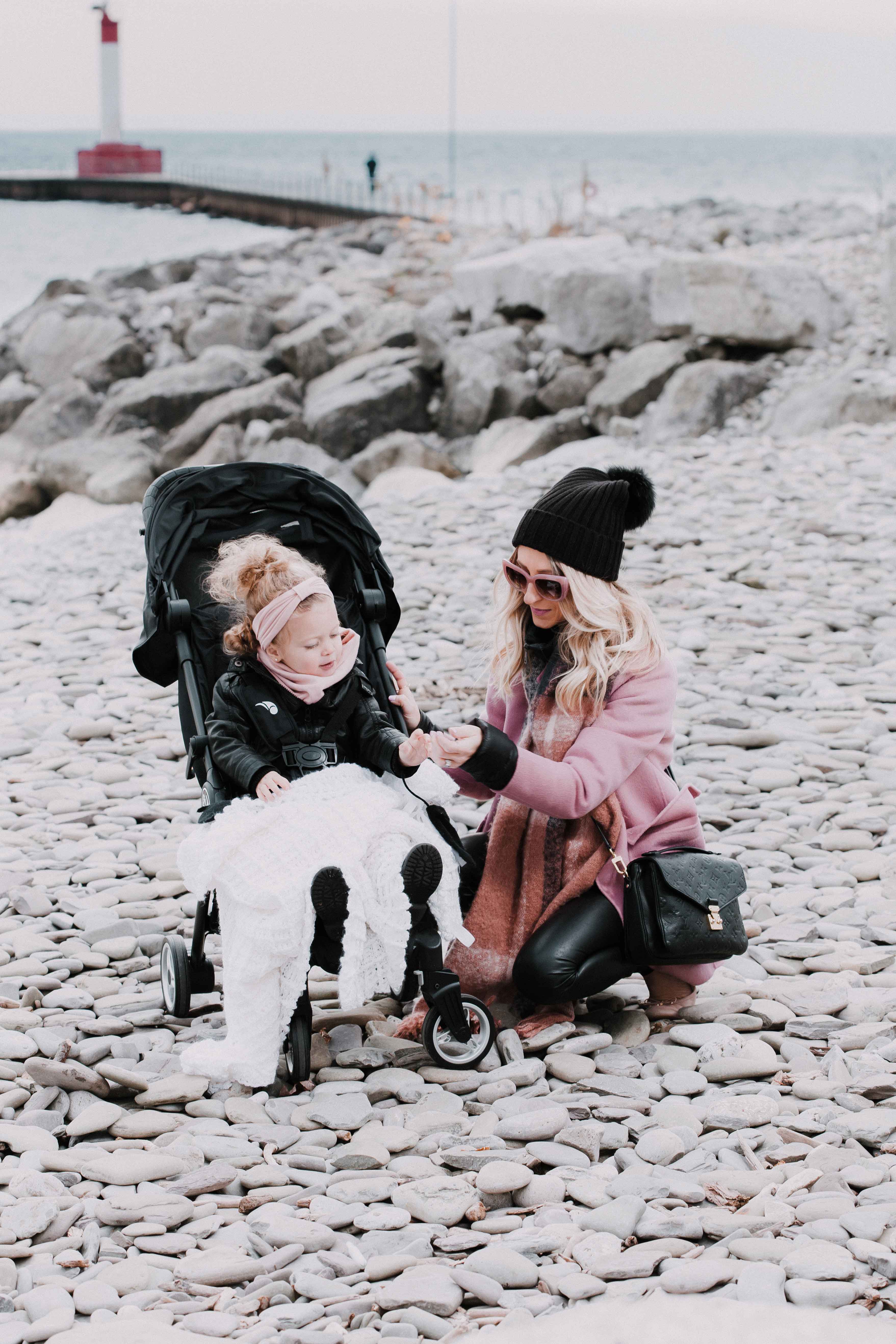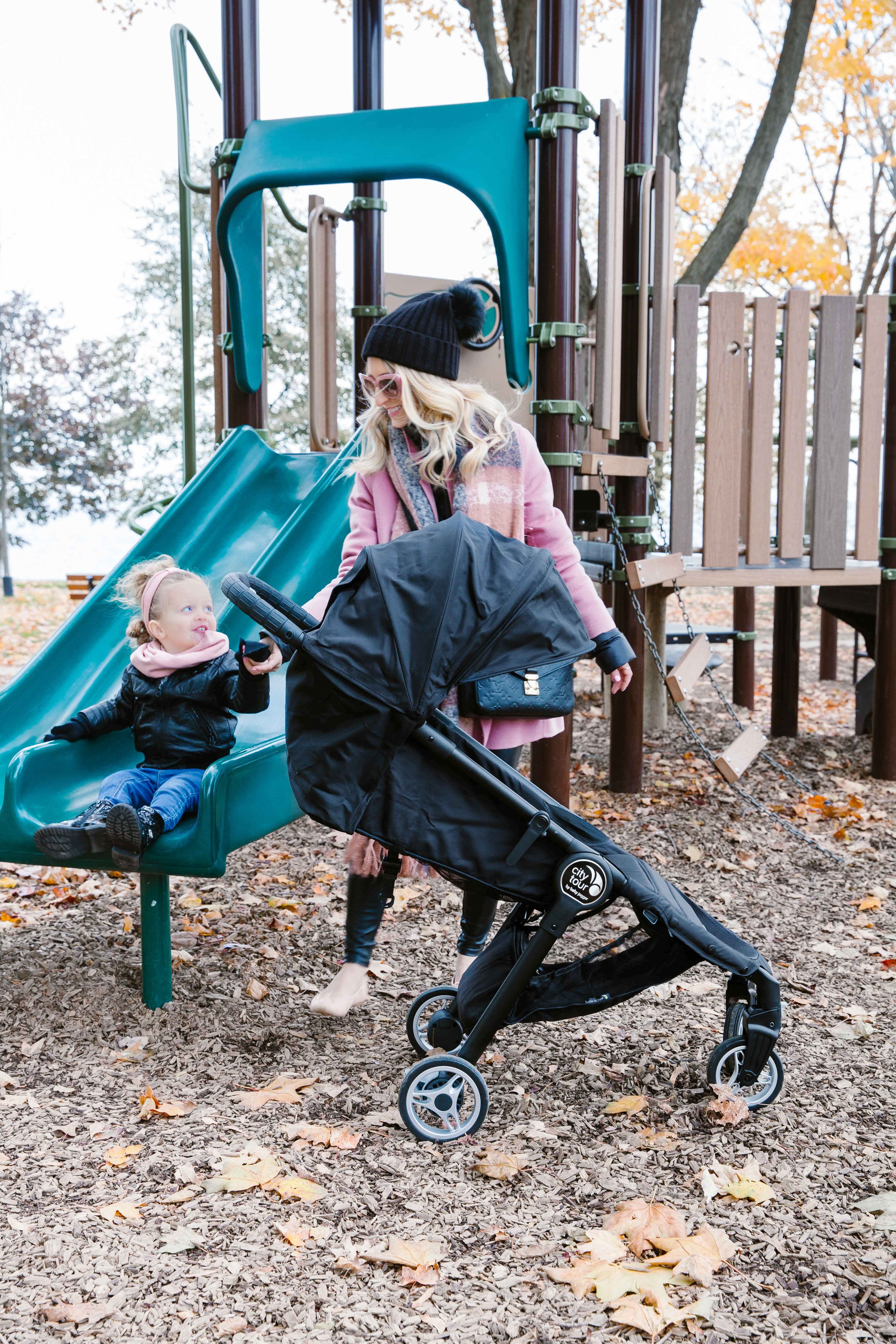 Things have definitely changed since we started using the Baby Jogger City Tour stroller. It's been over three weeks that we've tested and tried everything that this stroller can do, and in all honesty it's the best thing that's happened to us since my baby started walking!
She loves it (even loves pushing it herself), and I love how light and how super compact it is. An easy-to-take anywhere stroller is a definite must-have for this mama. Even though our girl is two years old, there are multiple situations where a stroller is still 100% needed, and with a 45 lb weight capacity – we'll be using it for many years to come!
* This post is Sponsored by Baby Jogger. In exchange for this post I have received perks in the form of products and/or compensation. All opinions on this blog are always my own.
*Photos by Peony Photography